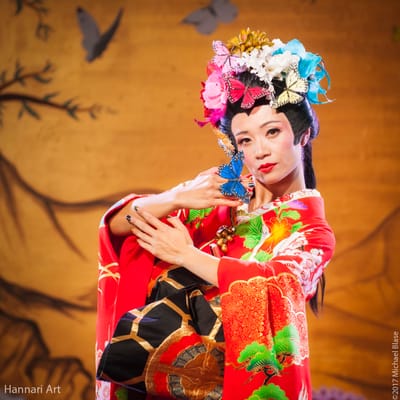 Born to a family of kimono merchants for generations in a suburb of Kyoto and with her grandmother being an accredited master of Nichibu, traditional Japanese dance, Satouchi grew up immersed in Japanese traditional culture.
Before coming to the United States, Satouchi had a successful career as a hairstylist and also received certification as a kimono dresser. In 2006, she decided to move to New York to learn English; there she started to discover the joy of expressing herself fully and physically through dance and learned the basics of various disciplines of dance, including belly dance, African dance, and modern dance.
Soon after arriving in New York, Satouchi first saw fire dance at an event. Instantly fascinated by its beauty and power, she started receiving training to become a fire dancer. In 2008, she was accepted by New York-based fire dance company Eros Fire (she was scouted by and transferred to another company Flambeaux the following year) through an audition and she contracted as a fire dance performer with Webster Hall, a gateway to success and fame in the entertainment world. There she produced her show as a choreographer and costume designer and was on stage for 4 years.
When she expanded her repertoire with burlesque, she started to explore her unique performance style in the extremely competitive entertainment scene in New York City and at the same time became more conscious of her background as a Japanese, her identity and roots, and Japanese traditional culture including kimono and geisha. Soon, her performing style as a geisha burlesque became established as her original.
Satouchi performed on MTV, at Japan Society, Philadelphia Museum, Asian Burlesque Spectacular, as well as numerous celebrities' private parties and famous restaurant opening events. She not only performs but also produces a multi-disciplinary stage combining elements of colors, visual images, sounds, fashion, and dance. She produced and performed such a show "Ama-no-Iwato," and co-starred with Tsukasa Tayuu, one of the only five "Tayuu (highest rank geisha who has accomplished in their arts and performance as well as conversation with their patrons)" in the geisha world.
Satouchi, often called "color person" by people around her, is on stage dressed in kimono, the most colorful wardrobe in the world. With a touch of "Masae-ism," she has added a modern twist to geisha culture which is on the brink of extinction, and has introduced the world of art and beauty of geisha with a mission to give artistic inspiration to people around the world.